Ed Miliband has said Labour will "change the way the country is run and who it is run for" as he launched the party's election manifesto.
Saying he had been tested as opposition leader and was "ready" for power, Mr Miliband said Labour would be a "party of change and responsibility".
He ruled out a "shopping list of proposals", guaranteeing all policies would require no extra borrowing.
But PM David Cameron accused Mr Miliband of trying to "con" the public.
The 86-page manifesto, which is 20,421 words long, sets out Labour's main policy pledges, including:
Raising the minimum wage to more than £8 by the end of 2019
A one-year freeze in rail fares, costing £200m, paid for by delaying upgrades to the A27 and A358 trunk roads
Twenty-five hours of childcare for working parents of three and four-year olds and a new right to pre and after-school help, paid for by rise in bank levy
Freezing gas and electricity bills until 2017, so they can only fall not rise
A £2.5bn fund for the NHS paid for largely by a mansion tax on properties valued at over £2m
Scrapping winter fuel payments for the richest pensioners, capping child benefit rises and protecting tax credits
A 50p tax rate on incomes over £150,000 a year and abolishing non-dom status. Rises in VAT and national insurance ruled out
A cut in university tuition fees from £9,000 to £6,000
Speaking in Manchester, Mr Miliband said the first page of Labour's manifesto "sets out a vow to protect our nation's finances; a clear commitment that every policy… is paid for without a single penny of extra borrowing".
Labour would not promise anything it could not fund, he said, contrasting this with the Conservatives which he described as the "party of sums that do not add up and commitments that cannot be kept".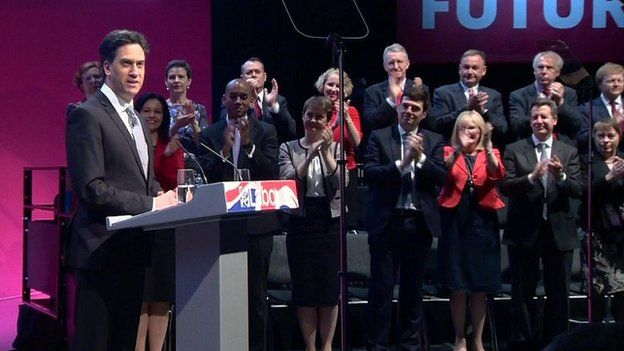 He added: "The plan we lay before you is no less ambitious because we live in a time of scarcity.
"It is more ambitious because it starts from a clear commitment to balance the books and more ambitious because it does not stop there.
"It meets the scale of the challenges we face today with not one policy funded by extra borrowing."
Mr Miliband said Labour would put the interests of working people ahead of vested commercial interests, promising to raise the minimum wage to more than £8 by 2020 and requiring the wealthiest in society to pay more in tax.
He said he would not seek to "carry on from where the last Labour government left off" but would "seek to solve the challenges of our time".
Addressing criticism of his leadership and suitability to be prime minister, which the Conservatives have made an election issue, he said: "Over the last four-and-a-half years, I have been tested.
"It is right that I have been tested for the privilege of leading this country.
"I am ready. Ready to put an end to the tired old idea that as long as we look after the rich and powerful we will all be OK.
"Ready to put into practice the truth that it is only when working people succeed, that Britain succeeds."M'kay